How I'm using Focus on iOS
As you likely know if you've read this blog before, I tend to use betas of everything and live on the horrible bleeding edge of adoption. iOS 15 launched this week, but I've used if for the better part of 3 months at this point and love some of the options it gives me for separating work and life through the new Focus modes.
Not only does this replace DND for me, I've used Focus to remind myself to log off at night and do some fun stuff.
What I use
Personal: All the fun non-work times use this mode.
Work: If I'm working, I'm in this mode.
Sleep: Every night while I sleep. This is basically DND with PagerDuty.
Driving: This mode existed in the past as well and initiates when I pluy my phone into my car. It shuts off most everything.
Timing
Every week day from 9-5, my phone automatically goes into "Work" focus, which shuts off notifications and calls from everyone but a few coworkers, my calendar, 1Password, PagerDuty, and my 2FA tool. This ensures I'm not distracted by random app updates or Discord, even though in most cases I'd manually shut off notifications in the past.
This mode also prevents anyone who isn't whitelisted from texting me and having me immediately see it. I had to add my house cleaner and my PT to the allowlist, but overall, it really helped.
I can always manually switch Focus modes in other instances as well, and I like how I can sync these modes to my other devices.
Home screens
Every year I update this blog with my homescreen, and this year I've got two! With the new ability to choose your homescreens with each focus mode, I tried to pick things that matched what I do during that time. For my personal time, I have a very simple homescreen with two small widget areas.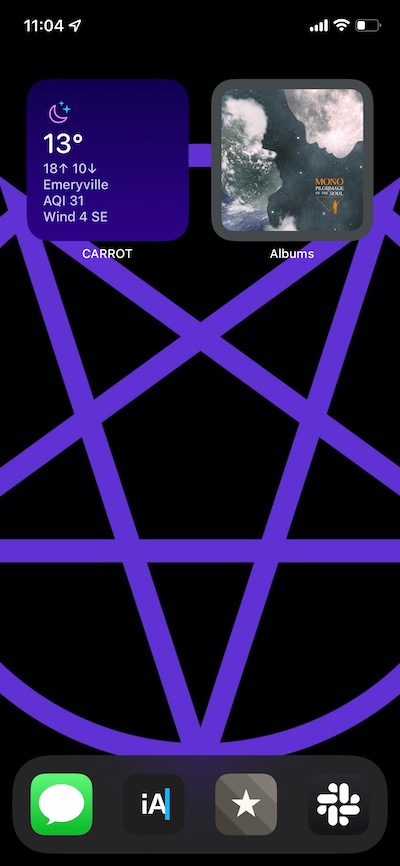 The left widget is Fantastical and Overcast, and the right one is Albums, Overcast, and Things. The home row stays the same for all modes.
For work, I also have two widgets, but they're only Fantastical and Things. The idea is that if I'm looking at my phone I just need to know what's next and what I want to do today. Soon I'll have a work phone and might not be able to view my work calendar on my personal phone, which will be a weird time for scheduling and might end with not having a work Focus. I'll find out more next month, I'm told. Things isn't approved yet on our new computers, so that makes GTD stuff tricky as well. I might be Slack DMing myself a lot soon, or trying to use Omnifocus at work.
And speaking of Slack, it was one of a few apps who added the ability to tie a user in the app to a contact in order to ensure messages in the app follow the same focus DND rules. It's nice to see messaging apps tie together seamlessly so I can say "look, I want to see messages from doeg no matter where they are, or when it is."
A note on DND in Focus
Using any DND modes that silence calls or notifications requires a little legwork at first. iOS tries to detect who you commonly chat with, and even which apps you commonly use, but what it doesn't do is know your cleaner's number, or the random delivery driver who decides to call you instead of paging you via your allowed front gate number. Regardless, much like unsubscribing from junk mail, the upfront work pays off, as you can rest easy knowing you won't miss any calls more that once. If it's important, they'll leave a voicemail or text.
What I want
It could be cool to have Focus tie in with my calendar or even my Wahoo bike computer to know when I'm in a meeting or cycling. It would also be cool to see a more easily scannable list of missed notifications that I can swipe to dismiss instead of tapping a small X. I think the system could be better at learning what apps and people I interact with too, perhaps learning that if my calendar has a call listed it should proactively add that person to the allow list for the duration of the meeting.
Finally, I would love the ability Android friends have mentioned they have to install multiple instances of an app such that I can only log into work Slack or other work-related items from 9-5 or if I'm on call. This year's OS updates feel like a great start and allow for some fantastic customization already so I hope iOS 16 builds on top of these new tools.